Indigo Books
Malcolm Turnbull books
Malcolm Bligh Turnbull are an Australian politician that has been the person in Parliament for Wentworth in Sydney's Eastern Suburbs since 2004. Turnbull had been educated at Sydney grammar-school plus the college of Sydney, in which he graduated with a Bachelor

Tags: Turnbull Malcolm Catcher USED Trial Spy



The Spy Catcher Trial - Malcolm Turnbull Used 1988 edition ex-library book hardback in good condition (however part of the title page is cut) Get other Books about Malcolm Turnbull click here Spycatcher details the author's work seeking to discover a Soviet mole in MI5 and that the said mole was Roger Hollis — a former MI5 Director General; it also describes people who might have or might not have been the mole; and renders a history of MI5 by chronicling its principal officers from the 1930s to his time in service. Moreover Spycatcher tells of the MI6 plot to assassinate President Nasser during the Suez Crisis; of joint MI5-CIA plotting against left-wing British Prime Minister Harold Wilson (secretly accused of being a KGB agent by the Soviet defector Anatoliy Golitsyn); and of MI5's eavesdropping on high-level Commonwealth conferences. Wright examines the techniques of intelligence services exposes their ethics (specul additional info.....
Tags: Turnbull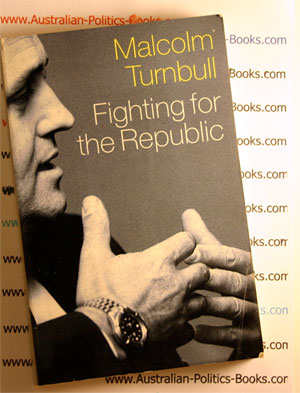 Fighting for the Republic - Malcolm Turnbull Used softback: .Rare 1999 edition good condition - - Colour Photos Get other Books about Malcolm Turnbull click here Malcolm Turnbull gives us the ultimate insiders account of the republican debate and the Constitutional Convention. About the Author Malcolm Turnbull Malcolm Bligh Turnbull (born 24 October 1954) Australian politician was the Federal Minister for Environment and Water Resources until November 2007. He is a Liberal member of the Australian House of Representatives representing the Division of Wentworth in Sydney's eastern suburbs since October 2004. Before entering parliamentary politics he practiced as a barrister was a merchant banker and was leader of the Australian Republican Movement. In light of the Liberal Party's defeat at the Federal elections and former Treasurer Peter Costello declining the role of Opposition Leader Malcolm Turnbull announced his intention to run for Leader of the Liberal Party but lost 42 votes to 45 to f come here
Tags: Turnbull Republic



The Reluctant Republic - Malcolm Turnbull Used softback: .1993 edition ex library book in average condition Malcolm Turnbull writing in support of the Republic 1993 Get other Books about Malcolm Turnbull click here About the Author Malcolm Turnbull Malcolm Bligh Turnbull (born 24 October 1954) Australian politician was the Federal Minister for Environment and Water Resources until November 2007. He is a Liberal member of the Australian House of Representatives representing the Division of Wentworth in Sydney's eastern suburbs since October 2004. Before entering parliamentary politics he practiced as a barrister was a merchant banker and was leader of the Australian Republican Movement. In light of the Liberal Party's defeat at the Federal elections and former Treasurer Peter Costello declining the role of Opposition Leader Malcolm Turnbull announced his intention to run for Leader of the Liberal Party but lost 42 votes to 45 to former Defence Minister Brendan Nelson and expressed his full support for Dr Nelson on 29 November 2007.T extra info
Malcolm Bligh Turnbull are an Australian politician that has been the person in Parliament for Wentworth in Sydney's Eastern Suburbs since 2004. He had been the best choice associated with resistance and chief associated with the Liberal celebration from 2008 to 2009, and has become the Minister for Communications since 18 September 2013.

Turnbull had been educated at Sydney grammar-school plus the college of Sydney, in which he graduated with a Bachelor of Arts and Bachelor of laws and regulations. He then attended Brasenose College, Oxford as a Rhodes Scholar, in which he graduated with a Bachelor of Civil Law. Prior to entering politics, he worked as a journalist, attorney, investments banker, and endeavor capitalist. In 1993, he became the Chairman associated with the Australian Republican Movement, a situation he presented until 2000.

In September 2008, Turnbull is elected Leader of Liberal celebration, getting the first choice associated with the resistance. In November 2009, he bought the Liberal Party to support the Carbon air pollution Reduction plan recommended because of the Labor national. This choice split the Liberal Party, and after a leadership challenge by Tony Abbott on 1 December, Turnbull missing the leadership by one vote.
Malcolm Turnbull was created on 24 October 1954 to Bruce Bligh Turnbull and Coral Magnolia Lansbury. His daddy is a resort agent; their mother ended up being a broadcast actor, journalist and academic and a cousin for the Uk movie and tvs star Angela Lansbury. They split whenever Malcolm is nine, with Turnbull's mom leaving for earliest brand new Zealand after which the United States. Malcolm was then increased by their daddy.

The supply had been created in July 1991, following the Australian work Party's use of republicanism as an insurance policy at its summit in June of that 12 months.

The supply's very first chairman is the novelist Thomas Keneally, with other founding customers such as the investments banker Malcolm Turnbull, the previous Australian cricket captain, Ian Chappell, while the movie director Fred Schepisi. Its at this time headed by Geoff Gallop, an old premiere of Western Australia, just who replaced Maj.-Gen. Michael Keating.

In 1993, the Republic Advisory Committee was made because of the Keating work national, the Committee set the fundamentals for proposed Constitutional change.

The Australian republic referendum presented on 6 November 1999 is a two-question referendum to amend the Constitution of Australian Continent. The first matter asked whether Australia should come to be a republic with a President appointed by Parliament following a bi-partisan session model which was authorized by a half-elected, half-appointed Constitutional Convention held in Canberra in February 1998. The next question, generally speaking deemed become much less essential politically, expected whether Australian Continent should affect the Constitution to insert a preamble. For some many years advice polls had advised that a majority of the electorate favoured a republic. Nonetheless, the republic referendum had been comfortably beaten considering sustained opposition from monarchist teams and also to unit among republicans regarding the method suggested for selection of the president.
After graduating with honours from Oxford, Turnbull returned to Australia and started being employed as a barrister. He left the club in 1983 to become General Counsel and assistant for Australian Consolidated hit Holdings team, from 1983 to 1985. During this time he defended Kerry Packer resistant to the "Goanna" allegations produced by the Costigan payment.

In partnership with Bruce McWilliam he set up his or her own lawyer, Turnbull McWilliam, in 1986. In that year Turnbull defended Peter Wright, a former MI5 agent, who authored the guide Spycatcher, which effectively obstructed the British federal government's attempts to control the book's book, and Turnbull later penned a book on test. In 1987, he established a good investment financial company, Whitlam Turnbull & Co Ltd, together with Neville Wran plus the previous State lender of New South Wales chief executive, Nicholas Whitlam. Whitlam parted providers utilizing the other people in 1990, and, from then until 1997, when Turnbull moved to come to be a managing director and later somebody of Goldman Sachs, the firm managed as Turnbull & Partners Ltd.

Turnbull has also been seat of a sizable Australian Internet Service Provider, OzEmail, a director of FTR Holdings Ltd, chair and handling manager of Goldman Sachs Australia and a partner with Goldman Sachs and Co. Inside 1990s, Turnbull was president of Axiom Forest information, which performed signing within the Solomon isles in trading name Silvania Forest Products. The latter's work had been described because of the Australian International developing Aid Bureau as a "clear-felling operation", and also the then Solomon countries Prime Minister Solomon Mamaloni reportedly threatened to close it straight down for "continual breaches of logging methods", relating to a vital article into the Solomon circumstances.

In 1999, Turnbull marketed OzEmail on then-telecommunications huge MCI Worldcom along with his share had been reportedly worth almost A$60 million. In the same season he put his pc software and financial investment organization FTR Holdings Ltd to bring opportunities in several Internet organizations like WebCentral and Chaos.com.

In May 2002, Turnbull showed up before the HIH Insurance royal fee and is questioned on Goldman Sachs' involvement on possible privatisation of 1 associated with the acquisitions of this collapsed insurance carrier. The Royal Commissioner's Report made no undesirable conclusions against him or Goldman Sachs.
Announcing his cupboard reshuffle on 24 January 2006, the Prime Minister John Howard marketed Turnbull from the backbench to Parliamentary assistant, with special obligation for liquid. In this brand-new capacity he reported directly to the Prime Minister. On 26 September 2006, Howard revealed the production, within the division associated with Prime Minister and closet, of this newer "Office of liquid Resources" to handle the issue of drought in Australia. Turnbull was handed fee with this office until he had been raised by Howard as Minister when it comes to Environment and Water information in January 2007.

In the position as Environment Minister, Turnbull authorized a proposed A$1.7 billion Bell Bay Pulp Mill in Tasmania's north, near Launceston. Turnbull's endorsement of the Bell Bay Pulp Mill venture of Gunns Ltd arrived on 4 October 2007 and accompanied a written report because of the national's main scientist Jim Peacock from the task's possible ecological effects, which requires the project to meet up with 48 "strict ecological" circumstances.

In February 2007, Turnbull had been criticised for saying a government allowance of A$175 a night and paying it to his wife as rent while staying in a townhouse possessed by the girl in Canberra.

During 2007 election venture, Turnbull revealed that after that national would contribute A$10 million toward research of an untried Russian technologies that is designed to trigger rainfall from environment, even when there are not any clouds. Literary works suggests that the technology is based on bogus research. The Australian Rain firm delivered research papers printed in Russian, explained by a Russian specialist which spoke to neighborhood specialists in Russian. Although Turnbull reported that Australian Rain firm is Australian-based, investigations uncovered it was 75 percent Swiss-owned. It was also revealed that a prominent stakeholder in the Australian Rain firm, Matt Handbury, is a nephew of Rupert Murdoch. Turnbull features refused to answer concerns regarding Handbury's share toward Wentworth discussion board, the primary fund-raising organisation for Turnbull's 2007 election venture.

In 2007, Turnbull guaranteed that their authorities, if chosen, would give same-sex couples death importance in Commonwealth superannuation systems, a guarantee comparable to one made 3 years early in the day, during the 2004 national election venture.
Resistance

Turnbull retained their seat at 2007 election getting a two-party 1.3-point swing in Wentworth, despite a 5.6-point move away from the coalition inside condition, and a 5.4-point move across the country.

Prime Minister Howard had lost his very own seat of Bennelong, as well as on 25 November 2007, Liberal deputy commander Peter Costello announced however not seek the party management. Turnbull declared his candidacy later similar time, and is considered a popular by many. He missing to Brendan Nelson, in a 45 to 42 vote. Nelson subsequently appointed your Shadow Treasurer.

Fleetingly after ward, other resistance front bencher Nick Minchin suggested that Turnbull's failure to consult with party colleagues before declaring his advice into media on these types of dilemmas as an apology into Stolen Generations cost him the leadership. This resulted in a disagreement between your two and culminated in Minchin privately informing Turnbull he was "too f***ing sensitive".

In-may 2008, Turnbull assaulted the 2008 Australian federal spending plan, concerned by enhanced taxes on deluxe vehicles and certain alcohol products, mentioning possible increased inflation.
Following the leadership vote, Turnbull stated however serve-out their full term as associate for Wentworth. On 6 April 2010, he announced he would perhaps not seek re-election. But on 1 May 2010 he corrected his decision.

At the 2010 federal election, Turnbull had been re-elected with a-swing of more than 11percent and was consequently brought back to your front bench as shadow communications minister. During the 2012 Alfred Deakin Lecture on digital liberty he spoke away strongly from the Australian federal government's suggested two-year data retention legislation.

In July 2012, Turnbull ended up being criticised for stating that municipal unions should always be accepted as a first step towards full same-sex marriage rights. Turnbull in addition supporting homosexual wedding and a conscience vote for Coalition MP's in the issue. But Tony Abbott failed to enable a conscience vote regarding concern. Turnbull stated that region having legalised homosexual marriage such as The Netherlands, Spain, Sweden, Norway, Canada as well as the United Kingdom very first have municipal unions.
Broadband

On Tuesday 9 April 2013 Malcolm Turnbull alongside Tony Abbott revealed his alternative National Broadband community arrange. This new arrange is a modified and scaled-down NBN with "fibre to the node" then last-mile by copper cable. The newest rules produced by Turnbull corrected the earlier Liberal Party place, which have required the dismantling associated with NBN should the Liberal celebration winnings the 2013 national election. As such, the policy enables the NBN to keep irrespective of the effect so that the election, although it can perform so in an alternative form from what is increasingly being built. In 2014, Turnbull established your Vertigan Report, a cost-benefit review of offering quick broadband to local and rural Australian Continent through cordless and satellite service, disclosed that it'll cost almost A$5 billion and was anticipated to build just A$600 million in economic advantages – a return of only 10 %. Notwithstanding the commercial cost, Turnbull reported that subsidising broadband to regional areas is "fiendishly costly" but said there was clearly no other choice. Turnbull brokered a deal between the federal government, NBN Co and Telstra in December 2014 wherein NBN Co acquired Telstra's copper community and hybrid-fibre coaxial which shall be always deliver the NBN. More, Telstra and NBN Co were to focus together regarding FTTN trial involving 200,000 premise.
In design, nominations for the mind of State or President could have been made by any Australian citizen or number of people. These would-have-been got by a nominations committee set up by Parliament. The committee would provide a report into Prime Minister from the the most suitable prospects for position. The Prime Minister would pick an applicant after acquiring help through the Leader associated with the Opposition. This bi-partisan an element of the process provides the model its name.

The formal visit of mind of State would-have-been manufactured in a combined sitting of Parliament, went to by people in the Senate and Household of associates. A unique two-thirds majority would have been expected to ratify the candidate's session as Head of condition.

The abilities for the proposed Head of condition will never happen substantially distinct from those associated with Queen and governor-general. The Head of State would-have-been vested because of the abilities of exec government, but those abilities would-have-been typically exercised on the pointers of ministers.

Under the design, the definition of associated with Head of condition would have been five years. Your head of State might have been eliminated by the Prime Minister but this decision would have been susceptible to confirmation by the residence of Representatives within 30 days. Any vacancy when you look at the article would have been briefly loaded by the longest-serving condition governor.
Rationale

If implemented, the design might have established an Australian Republic by eliminating constitutional links into the monarchy. Recommendations to either Queen or Governor-General within the Australian constitution would have been replaced by a reference to your President of Australian Continent.

Supporters of the model argued your appointed President would carry out his or her tasks in an exceedingly comparable style to the present Governor-General, once the approach to appointment requires the connected support for the big governmental parties. The President would continue to act regarding the advice associated with Prime Minister, as to manage otherwise would invite dismissal. Consequently, the alteration to a republic are argued to possess minimal effect on the remainder of Australian Continent's parliament and authorities.

Even though the 1999 referendum had been restricted to the federal jurisdiction, the model has the capacity to feel used with little customization by each of the six Australian states to formally break connections using the monarchy.
Review of this model

The model is criticised for the not enough democratic properties. The Head of condition isn't elected because of the folks and Prime Minister may lawfully dismiss all nominations produced by ordinary people. The design had been especially criticised for permitting the Prime Minister to discount the Head of State.

The design has also been criticised for the bi-partisan method. Relating to some, the deliberate searching of help because of the Prime Minister toward Opposition frontrunner, who are by meaning governmental adversaries, may influence the outcome of various other plan contests. The mandate implicitly conferred by two-thirds of parliament may enable the President to make use of reserve capabilities.

Lucy Turnbull - Wikipedia
Hughes and Turnbull were married on 22 March 1980 in Cumnor, Oxfordshire, England, United Kingdom by a Church of England priest, despite Turnbull then being Presbyterian and Hughes Roman Catholic. After two miscarriages, Lucy and Malcolm Turnbull had two children, Alex (b. 1982) and Daisy (b. 1985).
Order of Peter Turnbull Books - OrderOfBooks.com
Order of Peter Turnbull Books. Peter Turnbull is a British author of crime fiction novels. He writes the P Division, Hennessey and Yellich and Harry Vicary series. Peter grew up in Yorkshire, but worked in Glasgow, Scotland as a government social worker. He now once again lives in Yorkshire, England.
Malcolm Turnbull - Wikipedia
Malcolm Bligh Turnbull (born 24 October 1954) is an Australian former politician who was the 29th Prime Minister of Australia from 2015 to 2018. He served twice as Leader of the Liberal Party, firstly from 2008 to 2009 when he was also Leader of the Opposition, and a second time from 2015 to 2018.He was the MP for Wentworth in the House of Representatives from 2004 to 2018.
Turnbull Malcolm - AbeBooks
The Spy Catcher Trial: The Scandal Behind The #1 Best Seller by Turnbull, Malcolm and a great selection of related books, art and collectibles available now at AbeBooks.com.
Peter Turnbull - Book Series In Order
Peter John Turnbull is a British writer born on October 23, 1950 in Yorkshire, England. He is best known for his mystery fictions and police procedural books that have been published worldwide. Peter Turnbull was trained as a social worker and pursued the profession while writing a number of his early books.
Malcolm Turnbull - AbeBooks
The Spy Catcher Trial: The Scandal Behind The #1 Best Seller by Turnbull, Malcolm and a great selection of related books, art and collectibles available now at AbeBooks.com.
Amazon.com: malcolm turnbull: Books
Books Advanced Search New Releases Best Sellers & More Children's Books Textbooks Textbook Rentals Sell Us Your Books Best Books of the Month 1-16 of 36 results for Books : "malcolm turnbull" Skip to main search results
The reluctant republic: Malcolm Turnbull: 9780855613723 ...
The reluctant republic [Malcolm Turnbull] on Amazon.com. *FREE* shipping on qualifying offers. This volume, by the defence barrister in the notorious Spycatcher trial of 1986, traces Australia's constitutional relationship with Great Britain from its early days