Pimsleur Basic Tagalog Totally Audio – only 30 minutes a day 5 CDs The Pimsleur Method provides the most effective language-learning program ever developed. The Pimsleur Method gives you quick command of Tagalog structure without tedious drills. Learning to speak Tagalog can actually be enjoyable and rewarding. The key reason most people struggle with new languages is that they aren t given proper instruction only bits and pieces of a language. Other language programs sell only pieces – dictionaries; grammar books and instructions; lists of hundreds or thousands of words and definitions; audios containing useless drills. They leave it to you to assemble these pieces as you try to speak. Pimsleur enables you to spend your time learning to speak the language rather than just studying its parts. When you were learning English could you speak before you knew how to conjugate verbs? Of course you could. That same learning process is what Pimsleur replicates. Pimsleur presents the whole language as one integrated piece so you can succeed. With Pimsleur you get: bull; Grammar and vocabulary taught together in everyday conversation bull; Interactive audio-only instruction that teaches spoken language organically bull; The flexibility to learn anytime anywhere bull; 30-minute lessons designed to optimize the amount of language you can learn in one sitting. Millions of people have used Pimsleur to gain real conversational skills in new languages quickly and easily wherever and whenever – without textbooks written exercises or drills About Tagalog Tagalog is one of the major languages of the Republic of the Philippines. It is the most spoken Philippine language in terms of the number of speakers. Tagalog as its de facto standardized counterpart Filipino is the principal language of the national media in the Philippines. It is the primary language of public education. As Filipino it is along with English a co-official language and the sole national language. Tagalog is widely used as a lingua franca throughout the country and in overseas Filipino communities. However while Tagalog may be prevalent in those fields English to varying degrees of fluency is more prevalent in the fields of government and business. Tagalog History The word Tagalog derived from taga-ilog from taga- meaning quot;native of quot; and ilog meaning quot;river quot; thus it means quot;river d
more here…..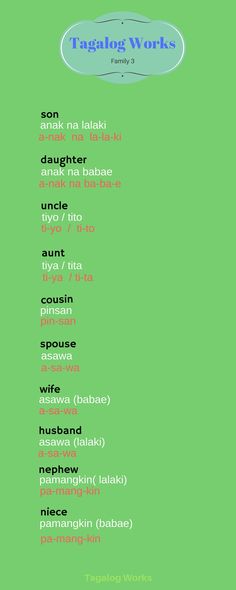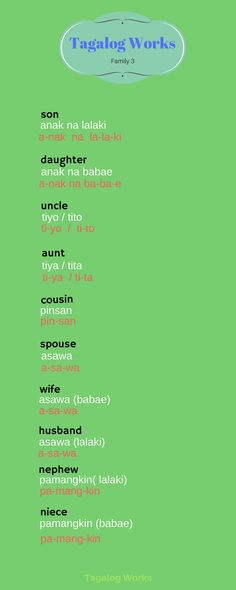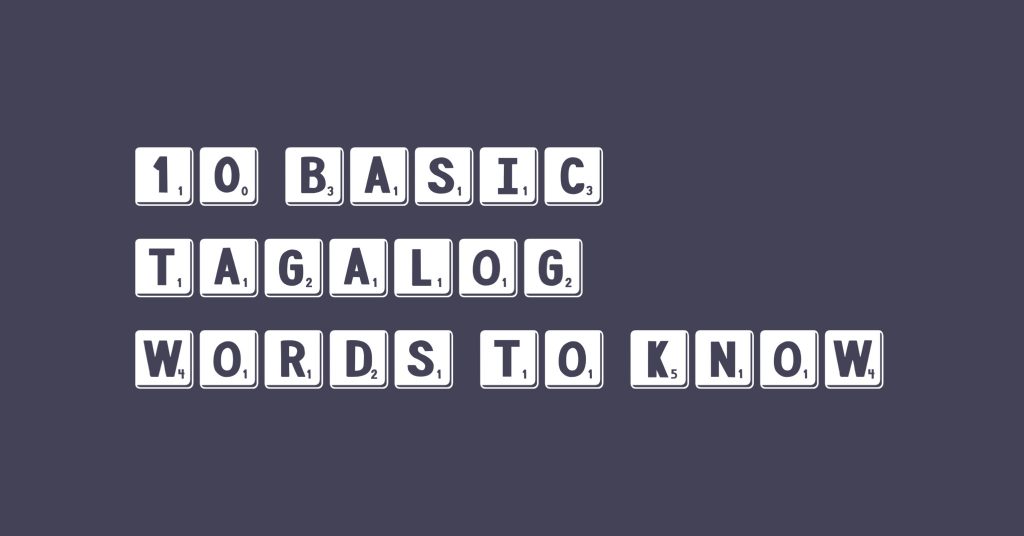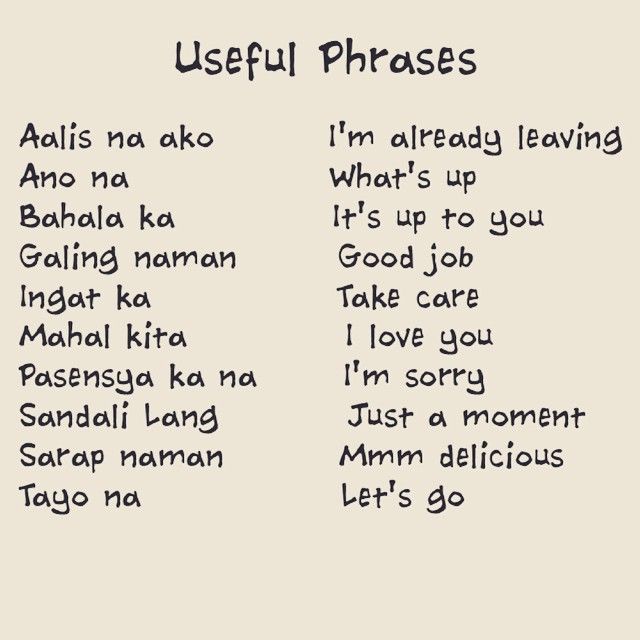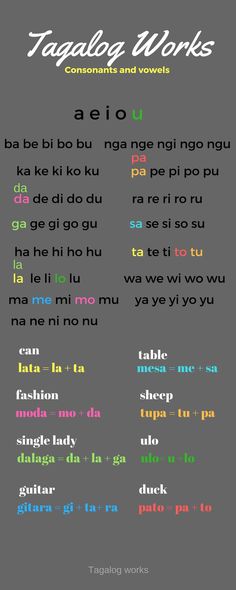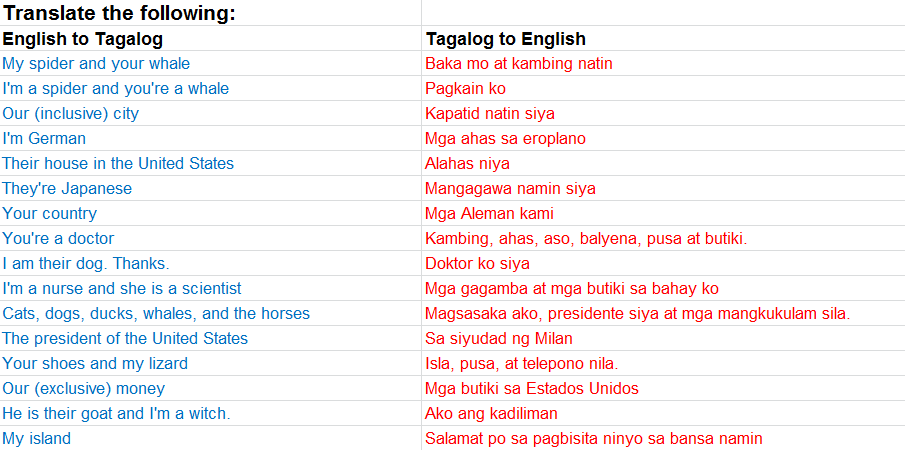 >
The 10 Basic Tagalog Words to Know
10 Basic Tagalog Words to Know If you need to learn just ten basic Tagalog words to get by, here's a list of useful phrases to impress your Filipino friends with. Opo. Salamat. Kamusta.
Learn Tagalog (Filipino) – Free Tagalog (Filipino) Lessons …
Learn Tagalog (Filipino) reading, Tagalog (Filipino) writing and Tagalog (Filipino) speaking with these free words and sentences about greetings, saying Hello and common phrases. All words and sentences are spoken by real Tagalog (Filipino) natives and this helps you in learning the correct pronunciation.
Tagalog Lesson 1 – Learn How to Speak Tagalog
Some Military Ranks and How to Say them in Tagalog. This course was originally developed to help soldiers and sailors learn the language before being stationed in the Philipppines. Thus, you will see references to military ranks and the locations around the now closed Subic Naval Base, and Clark Airbase. The U.S. Navy and Air Force no longer …
Learn How to Speak Tagalog – Learn Tagalog
Do you want to learn how to speak Tagalog? If so, you've come to the right place. Tagalog is one of the major languages spoken in the Philippines. Tagalog originated with the "Tagalog" people that are from the area of Manila and the surrounding region. The national language is "Filipino". Filipino is strongly related to Tagalog, yet is supposedly distinct in that it uses words from …
Learning How to Speak Filipino (Tagalog) for Beginners …
Learning how to speak Tagalog is easy, even for beginners who are just starting to learn a language for the very first time. With Glossika, you'll have the means to immerse yourself in a Tagalog speaking environment via our audio files and English translations on a daily basis. This way, you can gradually improve your listening comprehension …
Basic Tagalog: Let's Learn the Basics of Tagalog!
If you are not fluent in Tagalog and are learning the language as a non-native speaker, you are probably looking for translations of basic words and phrases. The quickest way to find what you are looking for is to use the search box. At this time, short words consisting of just two letters (for example: pa, na, ka …) are hard to find.
Learn Tagalog – Basics – 101 Languages
Add po at (or near) the end of a sentence or question to make it formal and polite. Exception: after an interrogative po immediately follows. Who is he/she? (formal) It is important to note that "opo" (po) and "oho" (ho) are only used to be polite to one's elders. Ho (not used in this phrasebook) is a slightly downgraded version of po and can …
Basic Filipino Language Tutorial
Learn Tagalog – Part 24, Useful … Tagalog (Filipino) Language 160 USEFUL TAGALOG PHRASES – Duration: 28:17. Talk to Me in Tagalog 101,098 views. 28:17 . English Tagalog Negative Character Traits …
Tagalog (Filipino) Language 160 USEFUL TAGALOG PHRASES
In this Filipino language lesson, you will learn many useful Tagalog phrases that you may use in daily conversations. Talk to Me in Tagalog videos make learning Filipino easy through a simplified …